CACI
CACI treatments use innovative technologies to provide non-surgical face and body lifts. CACI attracts an impressive celebrity following and is known for its effective and visible results without the need for surgery or any invasive procedures. Minimal downtime and quick results!
Face
First CACI Facial Treatment (including consultation) | £30
CACI Facial Treatment | £40
Course of 10 CACI Facial Treatments | £360
CACI Eye Treatment | £30
Body
CACI Electro-Cellulite Massage | £30
Course of 8 CACI Electro-Cellulite Massage Treatments | £210
CACI Bust Lift | £30
CASI Tummy Tuck | £35
CASI Thigh and Buttock Lift | £35
CASI Hand Treatment | £23
CASI Electro-Back Massage | £35
Dermalogica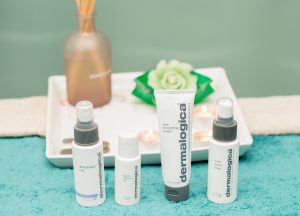 Dermalogica provide a range of highly sought-after skin care treatments designed to enhance the skin's appearance, banish acne, calm sensitive skin and slow down the ageing process. The unique Dermalogica Face Mapping skin analysis prescribes a treatment that is unique to you.
Face
UltraCalming Treatment (For Sensitive Skin) | £40 | 1 hour
Prescription Facial Treatment | £40 | 1 hour
Anti-Ageing Facial |£50 | 1 hour
mediBac Clearing Treatment (To Clear and Prevent Adult Acne) |£45 | 1 hour
Express Facial | £25 | 30 mins
Men's Skin Treatment |£40 | 1 hour
A range of Dermalogica skin care products are available to purchase at the salon at a discounted rate, so that you can continue your treatment at home.
Skinbase™ Microdermabrasion Facial
Skinbase™ Microdermabrasion treatments use non-allergenic crystals to intensely exfoliate the face, leaving skin looking healthier and feeling rejuvenated from the very first treatment. The perfect solution for those who suffer from pigmentation, acne, acne scarring, fine lines, wrinkles or stretch marks.
Single Treatment | £39
Course of 5 Treatments | £150
Express 30 Minute Treatment | £21