Treatments designed especially for men are also carried out at Arvinder's Massage and Beauty Therapy
These are particularly popular with business professionals, sports people and those with intensive jobs and hobbies. If you're looking for a treatment which is not currently listed, please contact the salon to discuss your requirements.
Massage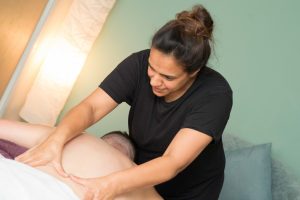 Deep Tissue Massage (Full Body) | £55 | 2 hours 30 mins
Deep Tissue Massage (Back, Neck and Shoulder) | £35 | 1 hour 15 mins
A must-have treatment for the likes of golfers, this massage is designed to target deep muscle groups, banish deep-rooted knots and ease tension points.
Indian Head Massage | £29 | Time: 1 hour
An age-old technique highly recommended for improving circulation and relieving tension in the neck, head and shoulders. It's also proven to benefit those who suffer with sinus problems or regular headaches.
Soothing Sciatica Massage | from £35 | Time varies (contact the salon to discuss your symptoms)
Banish sciatic pain with a relieving massage, which is known to loosen the muscles in the lower back to prevent stress being placed on your sciatica nerve roots. Don't live in pain – this massage really can help to alleviate stubborn sciatica.
Hands and Feet
Men's Executive Hand Treatment | £15
Hands are exfoliated and massaged, with full nail and cuticle care included. Protect and nourish your hands against hard work and daily wear.
Men's Executive Foot Treatment | £20
Ease tired and aching feet with a full exfoliation and massage. This treatment also includes full nail and cuticle care.
Grooming
Half Leg Wax | from £17
Full Leg Wax | from £25
Underarm Wax | from £12
Full Arm Wax | from £20
Back Wax | from £20
Chest Wax | from £10
Stomach/Abdominal Wax | from £8
Eyebrow Wax | from £8
Eyebrow Shape (Using Tweezers) | £10
Eyebrow Tidy (Using Tweezers) | £8
Face
Men's Dermalogica Skin Treatment | £40 | 1 hour
This treatment is designed to enhance the skin's appearance, banish acne, calm sensitive skin and slow down the ageing process. The unique Dermalogica Face Mapping skin analysis prescribes a treatment that is unique to you.
Men's Skinbase™ Microdermabrasion Facial
Skinbase™ Microdermabrasion treatments use non-allergenic crystals to intensely exfoliate the face. Ideal for men who suffer from pigmentation, acne, acne scarring, fine lines, wrinkles or stretch marks.
Single Treatment | £39
Course of 5 Treatments | £150
Express 30 Minute Treatment | £21