If you want to release tension after a hard day's work, enter a state of deep relaxation, or relieve pain from a recent injury, then a massage tailored to your needs could be just what you need.
Each treatment begins with a consultation to determine what you want to achieve from your chosen massage and to establish any allergies or injuries. Essential or basic oils (ideal for pregnant women) are then used to carry out a massage, which will not only target your pain points, but stimulate blood circulation and leave you feeling on top of the world.
A full aftercare programme is provided, so that you can really get the most from your massage.
If you're unsure which massage is best for you, simply contact the salon for a personalised recommendation.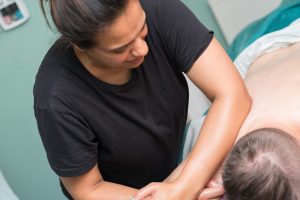 Deep Tissue Massage
Full Body: £55 | 2 hours 30 mins
Back, Neck and Shoulder: £35 | 1 hour 15 mins
Designed to target deep muscle groups, this massage is ideal for banishing deep-rooted knots and easing tension points. It's particularly beneficial for sports people, office workers and those who spend long periods of time on their feet. How much pressure is applied is down to you.
Therapeutic Back, Neck and Shoulder Massage
Back, Neck and Shoulder: £35 | 1 hour 15 mins
This relaxing, aromatherapy style massage takes a gentler approach to easing tension, allowing you to enter a period of complete tranquillity and relaxation. Don't be surprised if you fall asleep!
Stone Therapy Massage
Full Body: £55 | 2 hours 30 mins
Back, Neck and Shoulders: £35 | 1 hour 15 mins
Heat is used to penetrate the muscle tissue to stimulate circulation and boost metabolism. Expect to leave the salon completely relaxed, leading to a more balanced state of wellbeing.
Soothing Sciatica Massage
from £35 | Time varies (contact the salon to discuss your symptoms)
Banish sciatic pain with a relieving massage, which is known to loosen the muscles in the lower back to prevent stress being placed on your sciatica nerve roots. Don't live in pain – this massage really can help to alleviate stubborn sciatica.
Indian Head Massage
£29 | 1 hour
An age-old technique highly recommended for improving circulation and relieving tension in the neck, head and shoulders. It's also proven to benefit those who suffer with sinus problems or regular headaches.
Hopi Ear Candle Treatment
£25 | 1 hour
A surprisingly relaxing treatment, which uses a safe, natural and pain-free method to release the build-up of wax from the ear. It's used to treat a wide range of problems, including ear pressure, glue ear and migraines.